Daniel's First Year in Bolivia
February, 2008 to January, 2009

Upon completing his Instrument rating in Tennessee, Daniel flew commercially to Bolivia, where he volunteered in a variety of projects in the Beni and Santa Cruz regions.
Daniel spent about 5 months volunteering at the Familia Feliz orphanage and school about 30 minutes from Rurrenabaque.
Some of the kids are orphaned or abandoned, others come from dysfunctional homes or single parents who cannot afford to feed them.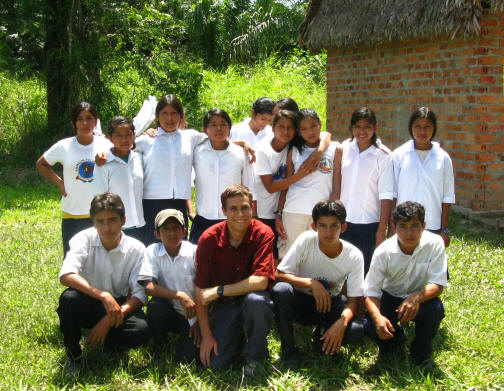 Daniel always hated school, which was accentuated by his dyslexia, high-energy and ADD challenges.
Now he ended up being the 7th and 8th grade teacher - and loving it!
He knew how to work with kids who came from difficult backgrounds, and they really loved him!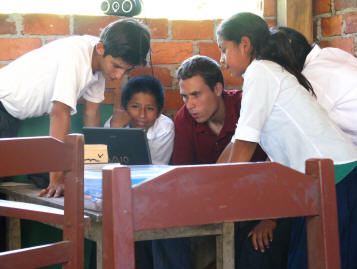 He sometimes showed them educational video clips - until the computer battery died. Solar panels and a small generator provided power for short periods of time.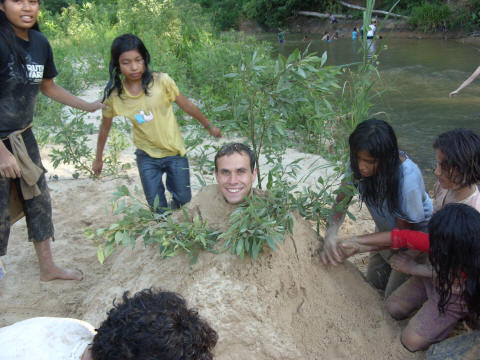 During excursions to a sandy creek, the kids had fun "planting" their teacher in the sand!
Sometimes it felt good to get away with a fellow volunteer - in this case Colombian Jorge Vergel - and explore the wild, dangerous jungle.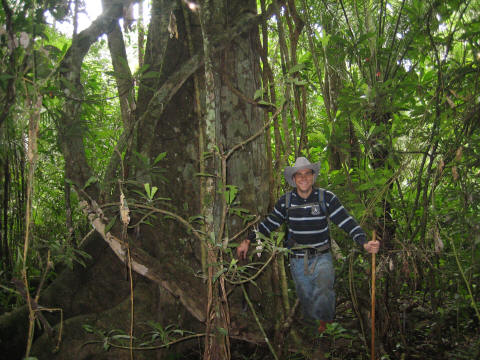 Looks dark and forbidding, doesn't it? (The jungle - not Daniel!)

Then there were these twin peaks of Mount Cebu that just had to be conquered!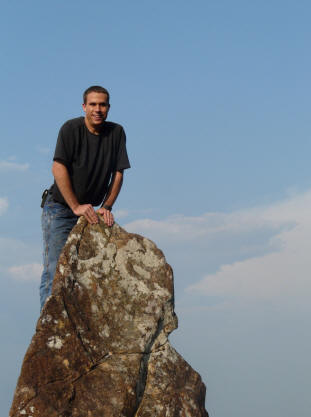 As well as beckoning rocky points along the way that couldn't be passed by! Daniel took a group of volunteers up, a tourist, and some of his more reliable students to the very top. Well, some didn't make it, but they had an adventure anyway! And none of them got killed.
In July, Daniel and volunteer Conner took several busses over the Andes mountains and down to the country of Chile, along the west coast of South America. It was dry, barren, yet quite cool.

Daniel and Conner joined a group of nearly 150 youth from Maranatha's Ultimate Workout, including Daniel's cousin Krista Medina! The youth split into 4 groups and built churches, had VBS programs for kids, distributed literature and helped clean up communities.
On their way back to Familia Feliz, Daniel and Conner rented bikes and rode with a group down Bolivia's Death Road - with awesome scenery as they descended from the pass at 16,000' elevation to about 3,000 feet.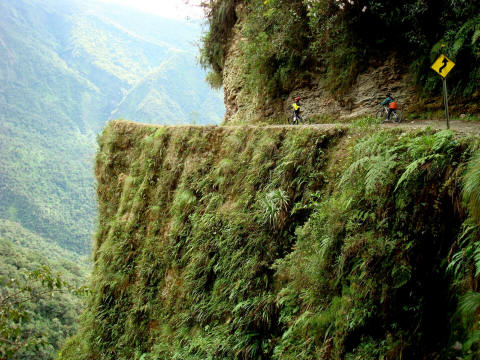 The road is narrow, gravel and has many drop-offs, over which many a truck, bus and car have fallen. Now it is used mostly for bicycles, as a new safer road has been recently completed.
In August, Daniel went to the city of Santa Cruz to take care of legal documentation, get his medical certification and validate his pilot's license. He ended up spending more than 4 months there when the Red ADVenir satellite TV network needed his help in editing videos as well as uploading the daily TV programming for the English channel.

He got together with some of the more adventurous youth to go hiking, swimming and camping in the nearby hills.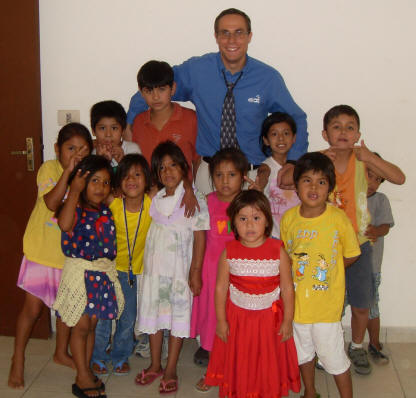 He spent many weekends with other volunteers visiting the Women's Prison, providing activities and programs for the children who live in prison with their mothers. For them it was the highlight of the week!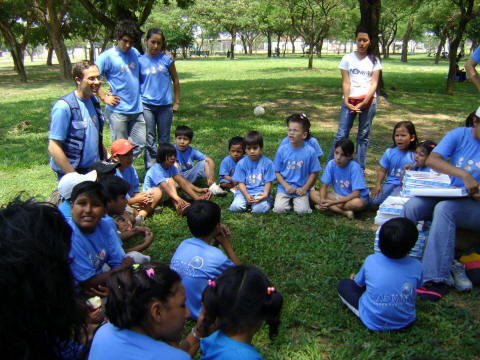 For a special treat, 28 of the prison children got to go to the zoo and see real live wild animals - a first for many of these city children. They also were treated to pizza.
In early January, 2009 Daniel went to the much smaller city of Trinidad, Bolivia to begin the Adventist Medical Aviation (AMA) Bolivia program. He flies this Cessna 172, purchased with funds "floated" from Gospel Ministries International (GMI), to be paid back when God provides $30,000 dollars.
As funds become available, Daniel flies volunteers to their places of service as well as patients who need medical treatment. Meanwhile, he's been busy organizing teams of volunteers from Mexico, Colombia and Bolivia to go door to door, sharing literature, giving Bible studies and holding evangelistic meetings.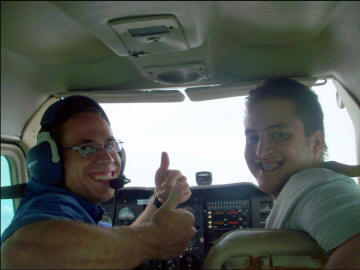 While working with Daniel at Familia Feliz, Jorge Vergel told Daniel he'd like to fly with him on his first passenger flight in the mission plane. And it so happened that his wish came true when Jorge and two other volunteers needed transportation back to the orphanage!
Daniel is still at the beginning stages of mission piloting - he only has about 300 hours of flying time. But the lowlands of Bolivia are a good place to get experience, with long, flat airstrips and low, rolling hills.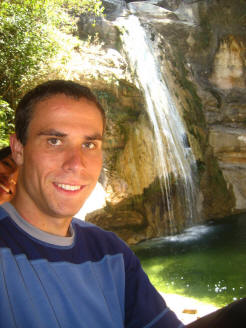 So that's what's been happening in Daniel's life as he begins his career as a full-time missionary.
To view YouTube video clips of Daniel's activities, click here.
Volunteers are needed! Click here to fill out an application or read news updates about mission projects worldwide.
You may click here to contact Daniel by e-mail.
Tax-deductible donations: Daniel serves by faith, trusting God to provide for his living expenses, airplane operating expenses and plane repairs. You may click here for online PayPal contributions, or mail a check to:
Gospel Ministries International
P.O. Box 506
Collegedale, TN 37315
U.S.A.
Office: (423) 473-1842
The check should be made out to Gospel Ministries International, with a separate note indicating that the funds are for Daniel Adams - AMA Bolivia.
Click here for information about Bob Norton & the lost mission plane in Venezuela.