Fred Adams Paralyzed
Some Pictures
Diana, Daniel, Fred & dog Ginger at our home in Linda Vista, Chiapas, Mexico in 1986.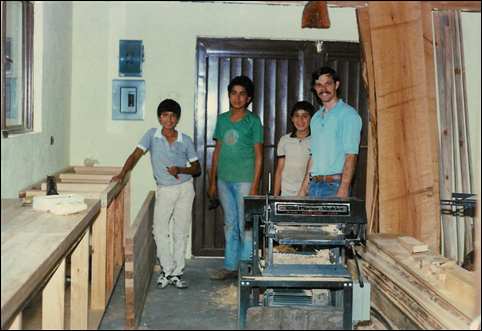 I really enjoyed teaching my Mexican students in woodshop class.
My students had fun designing and creating wood signs in shop class.
Furniture Factory building being built for student industry at Linda Vista in 1987.
The trusses collapsed 10 minutes after this picture was taken.
Huge trusses going up in Furniture Factory building - each weighing 3/4 ton.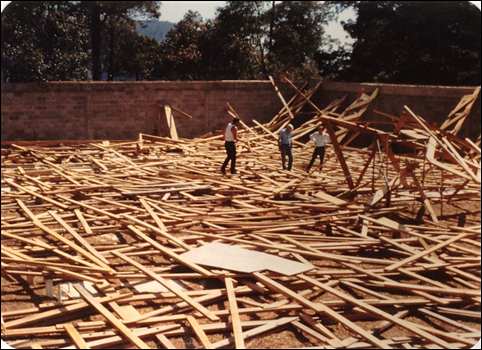 One truss snapped and 15 tons of lumber crashed down on the workers.
Amazingly, only 3 workers were seriously injured, and I was the only one paralyzed.
Although I had beams piled all over my body, my head was safe within the triangular space above, but my neck broke from falling backward onto the concrete floor.
I spent 5 days at a hospital in Villahermosa, Mexico before being transported to
Loma Linda University Medical Center in California. I couldn't move my fingers, and barely moved my arms. It was sad to watch by muscles become atrophied and my calloused hands become feminine soft. No more carpenter work for me!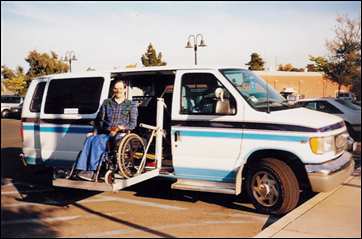 I've been in a wheelchair as a quadriplegic since 1987, but I still enjoy traveling,
being involved in missions and doing computer work.
I'm grateful to have a fully-equipped van with hand controls, and have driven
nearly 450,000 miles through 5 countries since I became paralyzed.
Most of all, I'm thankful that the day will come when there will be no more suffering.
I long for Jesus to come quickly to take us to our eternal home.

I see each day as another opportunity to serve God & reach out to others so
the Good News of salvation through Jesus Christ can reach the entire world.