Homeschool Field Trip Adventures at
Deer View
"Getting there was half the fun!"
By Fred Adams
September 28, 2005
It was a balmy, sunny morning out in Mosquito, California where three homeschooling moms and six children met for a day of fun, adventure and learning. Our destination was "Deer View," an abandoned resort built in the 1920's.
Buck Adams chauffeured the kids in a 1930 Ford Model A Roadster. No, it's not fixed up fancy, but it still runs!
At age 85, Buck is the oldest resident still alive who has lived the longest in the Mosquito community. He moved here in 1938. He bought this vehicle at age 18, and used it to take produce to Deer View and Pino Grande.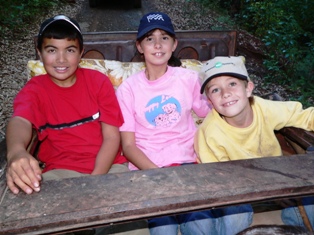 Spencer, Mackenzie and Cody really enjoyed their first ride in a Rumble Seat!
A mile or so beyond Mosquito (in which the Swansboro Country housing development is located), the pavement ended. After bouncing along around Slate Mountain toward Soapweed, we turned off Mosquito Road onto the overgrown, nearly abandoned Deer View road.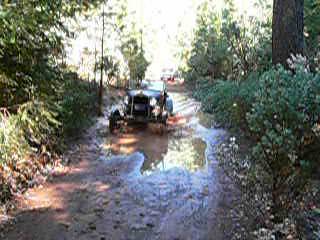 A heavy thunderstorm two days before left several large mud puddles. The ole' Roadster easily chugged right through them.
Click here to see video clip.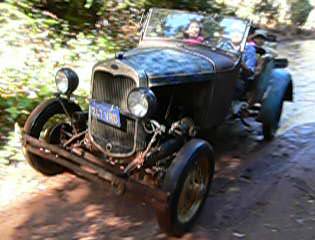 Whooo-eeee!
What fun! Let's do some more!
The kids had a grand time, throwing up their arms as if they were riding on a roller coaster. But this is the real thing - a genuine beat-up ancient Ford racing them along the narrow forest road, sliding sideways through slippery ruts and getting them wet as they splashed through puddles.
But when the late-model vehicles came to this murky puddle, the drivers wondered if it would swallow up their vehicles!.
Fortunately, Naturalist Jim Conrad had been camping at nearby Deer View. He stepped into the chilly water and showed us the deep places - nearly up to his knees in the ruts!
These gals are fairly adventurous, but they decided to park their four-wheel-drive Jeeps and walk the rest of the way.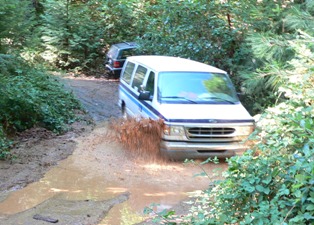 But I couldn't resist the urge to at least make an effort to get through - I'm a quadriplegic who enjoys adventure!
I got enough momentum, splashed into the water, slid around a little, and easily made it out the other side.
With several other slick ruts and puddles ahead, the moms decided to walk the last remaining quarter mile to the end of the driveable road. Of course, the Roadster full of adventure-loving kids made it all the way without problems - though it sputtered and choked for awhile after sucking some water into the air filter!